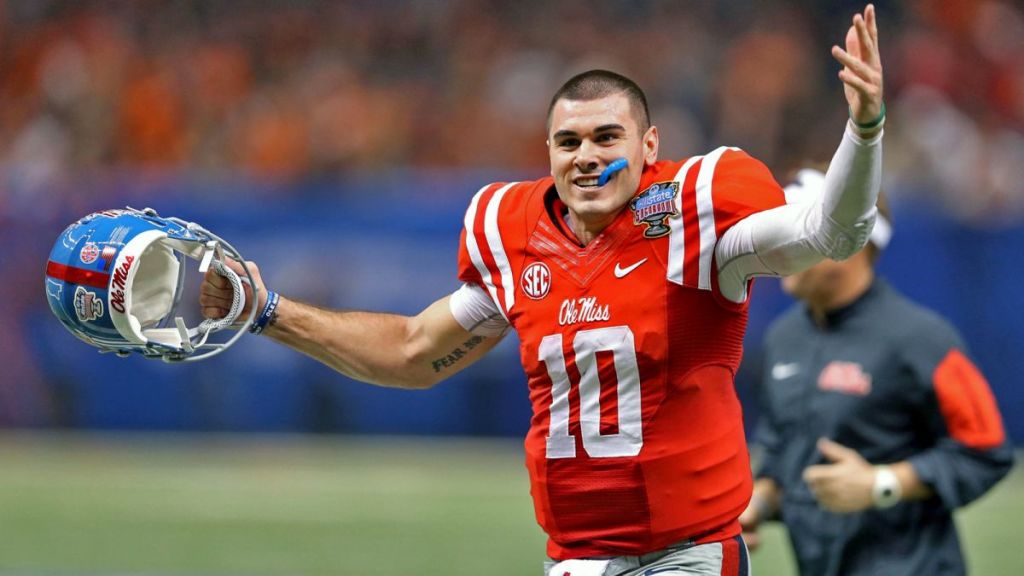 On the TUNNEYSIDE of SPORTS May 8, 2017, #639 Next… "Be at your best – every time!"
After further review…It has been the intent of these TunneySides to look for the best in every current situation. Yet we remind our readers to not erase the past. A man and his son were riding in a cab in Washington D.C., when the son spotted a sign on a building inscribed with the saying "The past is prologue". The son asked his father what that meant, and the father was speechless. Whereupon the cab driver spoke up and said: "It means y'all ain't seen nothin' yet." The saying is from Shakespeare's play The Tempest Act 2 Scene 1, and the cabbie was right.
With the 2017 NFL draft completed and 273 players selected, hopeful becomes a key word. How many of those drafted will make a positive impression on their T*E*A*M? Perhaps more importantly, how many will remain hopeful, including #273, the last player chosen? He is Mr. Irrelevant, Chad Kelly quarterback from the University of Mississippi, nephew of Jim Kelly, the Hall-of- Fame quarterback for the Buffalo Bills. Everyone at this point believes they all will make an impression. Can you blame them for believing so? Not at all.
I can remember my first year as an NFL game official in 1960, believing that I would be successful, yet as my career progressed there were many Sunday afternoons or Monday nights when I left the stadium wondering if I did my job to the best of my ability. My mantra after every game, was: Did I leave this game better than I found it? To maximize my performance, I created a self-evaluation form. I analyzed each game's outcome with the following:
Was I prepared both physically and mentally?
Had I worked out daily so that I could keep up with players who were years younger?
Mentally speaking, had I studied the rule book so that I could administer the rules with confidence and without hesitation?
Secondly, did I represent the NFL without prejudice toward a player, coach or fan? I always felt that sustaining the integrity of the game rested with me.
Thirdly, did I treat each player and coach with respect? No matter how unruly a player or coach became, it was my responsibility to maintain dignity and composure.
Fourthly, in my referee position, as crew chief of the officiating team (once comprising four, then five, and now six others) did I work with them as a T*E*A*M to ensure we did the best job possible? We'll explore other evaluation points later.
Will you strive to maintain your job, your family with the best you can offer, every time?
- – – – – – – – – – – – – – – – – – – – – – – – – -
To contact Jim, go to JimTunney.com or email Jim@JimTunney.com.
Jim's books are full of inspiration and interesting stories. Please visit his online store to learn more.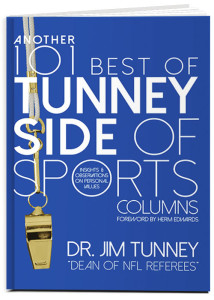 Be sure to get Jim's book 'Another 101 Best of TunneySide of Sports' by clicking this link or using the email above to contact Jim directly.
These TunneySides take issues from real-life situations and relate them as inspiration for the betterment of others.
---