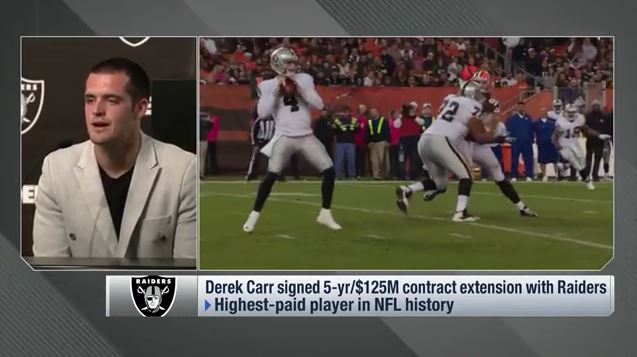 On the TUNNEYSIDE of SPORTS July 3, 2017, #647 Up Next…"Changing the Culture"
After further review…If you are or ever will be in the process of changing the culture of a T*E*A*M (e.g., club, organization, or family), please allow the TunneySide to offer a couple of thoughts. This topic recently occurred to me as I watched a sports talk show. The focus was on the Oakland Raiders quarterback Derek Carr, who signed a five-year contract for $125 million, with $70 million guaranteed. More on that another time.
These sports reporters were questioning whether this new contract – the highest to date in the NFL – would change the culture of the Raiders. Having officiated Raiders games for over 25 years, I have observed their demeanor up close and personal. They have developed a reputation for playing with pronounced physical aggression, a bad boy image meant to intimidate opponents. Raiders fans have always embodied the toughness and loved when it felt genuine with the team, but in my estimation, the Raiders were always more than that. You don't win championships with cheap shots.
With the hiring of Jack Del Rio in 2015, Oakland got a head coach who grew up a Raiders fan and followed their history. Del Rio also knew of the culture of a T*E*A*M that he wanted to create in today's NFL environment, and has spent the last two years implementing it. However, those reporters I heard were focused on the fact that now the Raiders had a franchise quarterback along with a powerful defensive end in Khalil Mack. They asserted that having these two superstars – one on each side of the ball – means that there is a strong basis of leadership for the team. But to me, leadership goes beyond salary and accolades.
While the skills of top rated personnel are important to the success of any culture, it is the leadership qualities of individuals that can make a culture great. It is ironic that many T*E*A*Ms feel that the best player must be the team leader. This is not necessarily so. Leadership has little to do with physical skills, it relates to an individual's character, integrity, and a committed passion. Leadership is not so much about ability, as it is with responsibility. Anyone can step-up to be a leader.
Canadian astronaut Chris Hadfield was quoted: "Ultimately, leadership is not about glorious, crowning acts. It's about keeping your team focused on a goal and motivated to do their best to achieve it, especially when the stakes are high and the consequences really matter. It's about laying the groundwork for others' success, and then standing back and letting them shine." This is the framework of a successful culture.
Will you log-in your thoughts about creating a culture?
- – – – – – – – – – – – – – – – – – – – – – – – – -
To contact Jim, go to JimTunney.com or email Jim@JimTunney.com.
Jim's books are full of inspiration and interesting stories. Please visit his online store to learn more.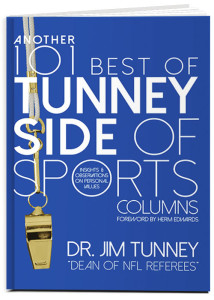 Be sure to get Jim's book 'Another 101 Best of TunneySide of Sports' by clicking this link or using the email above to contact Jim directly.
These TunneySides take issues from real-life situations and relate them as inspiration for the betterment of others.
Jim is available for speaking engagements on leadership and T*E*A*M Building. His books are available for $20 which includes shipping and tax. The Tunney Bobblehead is available for $30. Please visit JimTunney.com. Thank you!
---