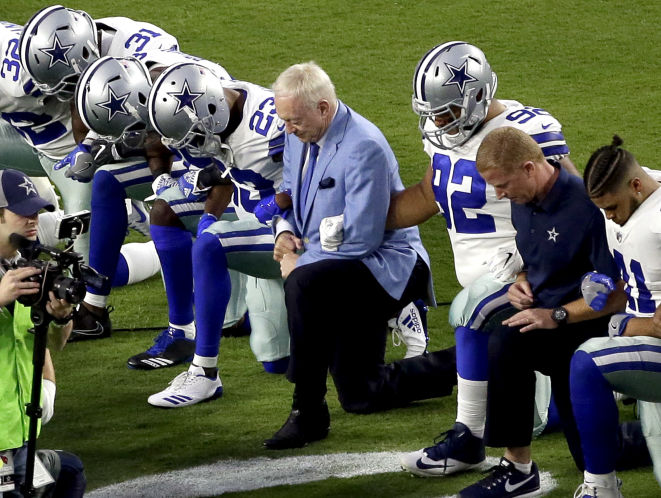 On the TUNNEYSIDE of SPORTS October 2, 2017, #660 Up next… "Duty, Honor, Country"
After further review…Those three words reverently dictate what you ought to be, what you want to be, what you can be, what you will be. They are your rallying point to build courage when your courage seems to fail, to regain faith when there seems to be little cause for faith, to create hope when hope seems to become forlorn. These words build your character. They mold you for your future roles as custodians of the nation's defense. "They make you strong enough to know when you are weak, and brave enough to face yourself when you are weak" were the words of General Douglas MacArthur in a speech when he accepted the Thayer Award as an outstanding citizen of the United States.
While MacArthur's speech was to the cadets at West Point, N.Y. on May 12, 1962, his words certainly seem appropriate today for all of us in the United States of America. Even though I was not in the military, I learned self-discipline from my father and in my physical education training from Dr. Carl Trieb at Occidental College. I wish that many others had grown-up with that kind of guidance. Indeed, I am fortunate. Which leads me to today's important issues.
While this column has written several times before about the social injustice issue that Colin Kaepernick introduced some time back, the reaction by many, both pro and con, has exacerbated it beyond civility.
One of the tenets of the word "duty" is an individual's responsibility to speak or react to issues with civilly. Fans attend games or watch on TV because they honor and respect players' athletic abilities, not their politics. If you doubt that professional athletes serve as role models, check YouTube or social media to see examples of kids today kneeling during their youth sports games, not is prayer, but in defiance.
What really inflamed this issue was the egregious statement by POTUS. The abhorrent language he used has solidified teams to bind more closely together. If we, as Americans, truly believe in the first amendment which guarantees free speech, both Kap and POTUS have that right. However, in the case of the later "obscene" language is not permitted by this amendment.
Perhaps with almost every one of the 32 T*E*A*Ms discussing this and many rallying together, all players can move forward and actively do something in their own communities to create a positive climate.
Will you be part of efforts to create a positive climate in your community?
- – – – – – – – – – – – – – – – – – – – – – – – – -
To contact Jim, go to JimTunney.com or email Jim@JimTunney.com.
Jim's books are full of inspiration and interesting stories. Please visit his online store to learn more.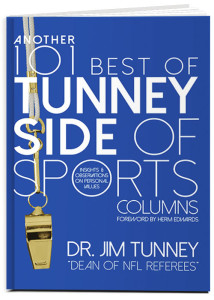 Be sure to get Jim's book 'Another 101 Best of TunneySide of Sports' by clicking this link or using the email above to contact Jim directly.
These TunneySides take issues from real-life situations and relate them as inspiration for the betterment of others.
Jim is available for speaking engagements on leadership and T*E*A*M Building. His books are available for $20 which includes shipping and tax. The Tunney Bobblehead is available for $30. Please visit JimTunney.com. Thank you!
---