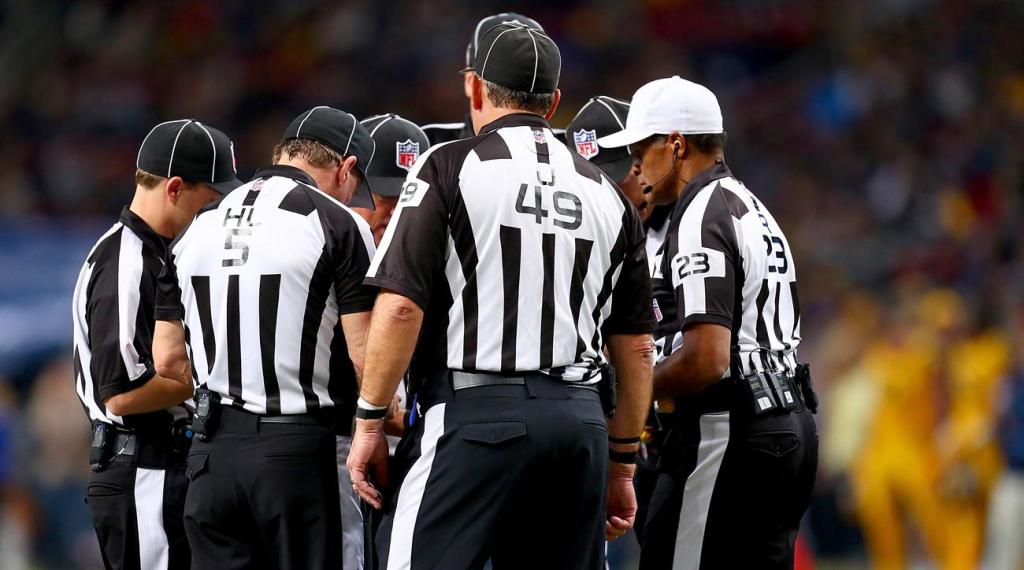 On the TUNNEYSIDE of SPORTS August 21, 2017, #654 Up Next… "Full Time?"
After further review…The National Football League has recently announced there will be full-time on-field officials for the 2017 season. The announcement stated that 24 officials of the current staff of some 123 will be selected for full-time status. The NFL will then be the sole employer of those 24 officials. Further, the NFL is requiring there be at least one full-time official in each of the seven on-field positions, with no more than five in any one position. The obvious reason is to improve the skills of officials. Is the NFL seeking perfection? Stay tuned!
Let's look at some issues. Those who work jobs outside of the NFL may not want to give-up that job with tenure, a family-plan for health insurance, and either a 401k or a retirement plan in place. For the years of my NFL tenure, it would not have been an option. Working as a teacher and school administrator would mean terminating those positions. Today, however, several officials have retired from their full-time employment and can make that transition. Others may be self-employed or work in jobs that allows freedom from their daily tasks.
The bottom-line for "full-time" is to improve on-field performance. NFL's statistics indicate that today's on-field officials are accurate about 96 to 97 percent of the time. That's a high number to exceed. How much greater can it be? The sports of basketball (NBA), baseball (MLB) and hockey (NHL) employ full-time officials. Yet, and, with no disparaging thought intended, officiating mistakes in those sports do occur. Further, players make mistakes. A "satisfactory" passing completion rate for a starting NFL quarterback is around 64%, and they are full-time!
Further, studies of improving performance in any skilled activity claim that in doing it full-time, one must perform that activity on a regular basis, i.e., every day. Yet, teams only play a live game once a week. During the week, teams practice, but with minimal contact and not against an opponent, with none of the emotion created by live action. Having been on-the-field for more than three decades as well as recently having been in a trainer's position, I can attest that today's NFL officials take their responsibilities with the utmost care. The video review of each official's performance every week is studied and critiqued with the intent to improve.
While the TunneySide admires the NFL's goal to seek perfection, it must be understood that perfection is rarely achieved. No one – players, coaches, officials, or fans, want errors to happen, yet they will. My colleague, Dr. Nido Qubein, has said, "Imperfection is part of being human." Football is a game played by humans.
Will you log-in your thoughts about full-time NFL officials?
- – – – – – – – – – – – – – – – – – – – – – – – – -
To contact Jim, go to JimTunney.com or email Jim@JimTunney.com.
Jim's books are full of inspiration and interesting stories. Please visit his online store to learn more.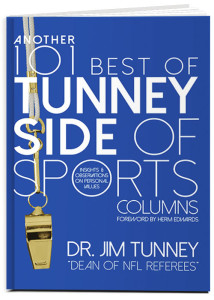 Be sure to get Jim's book 'Another 101 Best of TunneySide of Sports' by clicking this link or using the email above to contact Jim directly.
These TunneySides take issues from real-life situations and relate them as inspiration for the betterment of others.
Jim is available for speaking engagements on leadership and T*E*A*M Building. His books are available for $20 which includes shipping and tax. The Tunney Bobblehead is available for $30. Please visit JimTunney.com. Thank you!
---