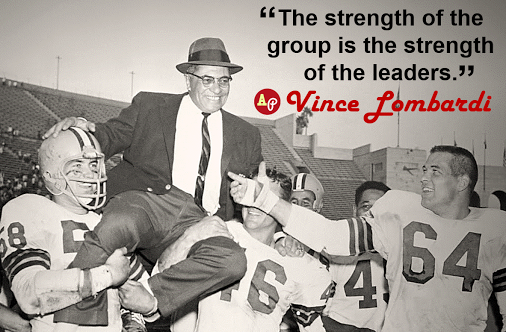 On the TUNNEYSIDE of SPORTS January 23, 2017, #629 Up next… "Stepping up to be a leader!"
After further review… Following the recent TunneySide article on the San Francisco 49er Colin Kaepernick's selection by his teammates as an inspirational leader, I received an email from a subscriber saying that his son has been selected captain of his high school baseball T*E*A*M, and could I offer a plan that he could follow to become a successful leader.
After considering many approaches, and with space limitations, I chose to use "C," the first letter in the word captain to introduce terms that typify strong leadership.
The "C" represents "charge" as "in charge." Yes, you are in charge. You must step up to take control of your T*E*A*M. When all is going well, leadership is easy. But when difficulties arise, others look to you for solutions. That's when some want out. But not you — your strength and your demeanor will be scrutinized by others.
Be "calm" – there's another "C" that's important. Okay, but how does one develop calmness in the face of adversity? Read on.
"C" for confidence comes to mind. Confidence comes from within. It's not something that someone else gives you, but a quality that you develop inwardly. Confidence may not be there at first, but convincing yourself ("C") that you can be a capable ("C") leader will come with practice. Be careful ("C") that arrogance doesn't develop. Great leaders develop what is called quiet confidence. You can as well.
A "C" for credibility comes with being a strong leader. "Walk your talk" is the old saw that expresses what you do speaks louder than what you say. I wrote some time ago that a leader I worked with (and later for) in the National Football League is one whom I could trust to do what he said. I wrote, "I would play poker over the phone with him" knowing full well that although I wasn't in his presence, I could trust his honesty. That leader was Art McNally, my former NFL officiating supervisor!
The last "C" in this alphabetical exploration is companionship. No one leads alone. Steve Young, NFL Hall-of-Fame quarterback and former San Francisco 49er, told me "If you play alone, you'll be alone."
Everyone on a T*E*A*M must be considered important for the team to be successful.
Will you be willing to step up to be a leader with these qualities in mind?
– – – – – – – – – – – – –
To contact Jim, go to JimTunney.com or email Jim@JimTunney.com.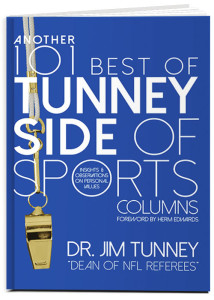 Be sure to get Jim's book 'Another 101 Best of TunneySide of Sports' by clicking this link or using the email above to contact Jim directly.
These TunneySides take issues from real-life situations and relate them as inspiration for the betterment of others.
---