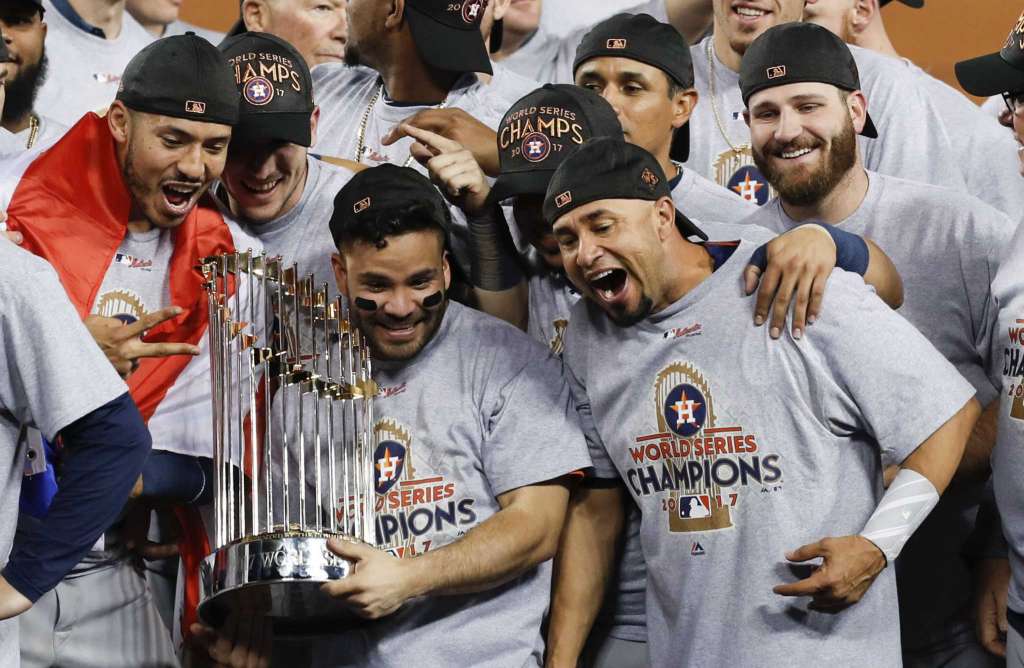 On the TunneySide of Sports November 6, 2017 #665 Up next… What was missing?
After further review…The 2017 Major League Baseball World Series is, as they say, in the books! The Houston Astros can rejoice with their World Series Trophy until the 2018 season, which begins in less than 120 days when the pitchers report to spring training sites — hardly enough time to spend relaxing in the islands. In the 2017 World Series Game One, the two "Ks" were on the mound – Dallas Keuchel, #60 for the Astros, and Clayton Kershaw, #22 for the Los Angeles Dodgers. Kershaw won 3-1 allowing the Astros only three hits and striking out 11. But what was missing was the third "K" — #32, Hall of Fame Dodgers pitcher, Sandy Koufax. Koufax, although sitting in Dodgers Stadium that day at 81 years old and still be able to fool opposing batters with his famous curve, was probably not interested in walking 60' 6" to do so. Of course, if it happened on Yom Kippur (the Jewish Holy Day when he declined to pitch the opening World Series game in 1965), he wouldn't even be there.
And they did it again! In Game Five of the 2017 World Series, "K" and "K" were the starting pitchers, yet, still no Koufax. Game Five was historic – whatta game! And although both starting pitchers were gone before six innings, it was an entertaining home-run derby night! Both pitching staffs and bullpens were "outa gas!" It is reported that 400 pitches were thrown and called by home plate umpire Bill Miller in that five-hour, 17-minute, 10-inning game. It was the second-longest World Series game in history. Further, there were at least 2000 expectorations (spitting) from each dugout during that time.
While it was the original intention of this article to proclaim how the 2017 World Series match-up between the New York Yankees and the Los Angeles Dodgers would be a better series than the current Astros and Dodgers, one needs to admit that the current seven-game series has been one of the best in MLB history. Granted more eye-balls would have been glued to their television sets than this series. However, those who decided not to watch missed a great one!
The TunneySide preference was a personal one. As a kid (8-9) I listened to Mel Allen broadcast on the radio the Yankees games and dreamed about one day being a Yankee. In those days the Dodgers were still in Brooklyn, but when they arrived in Los Angeles, I became a fan and attended many games a Dodgers Stadium, including Koufax's four-time MVP awards, as well as the final game in the World Series shutout of the Minnesota Twins in 1965.
Will you log-in your feelings about the 2017 World Series?
- – – – – – – – – – – – – – – – – – – – – – – – – -
To contact Jim, go to JimTunney.com or email Jim@JimTunney.com.
Jim's books are full of inspiration and interesting stories. Please visit his online store to learn more.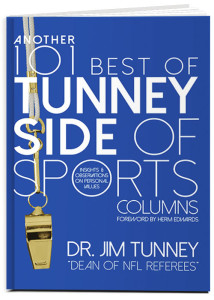 Be sure to get Jim's book 'Another 101 Best of TunneySide of Sports' by clicking this link or using the email above to contact Jim directly.
These TunneySides take issues from real-life situations and relate them as inspiration for the betterment of others.
Jim is available for speaking engagements on leadership and T*E*A*M Building. His books are available for $20 which includes shipping and tax. The Tunney Bobblehead is available for $30. Please visit JimTunney.com. Thank you!
---