On the TUNNEYSIDE of SPORTS April 17, 2017, # 636 Up Next… "Monkey on your back?"
After further review…We've all heard that expression about an athlete who "hasn't won the big one." It was applied to PGA golfer Sergio Garcia, until he won the 81st Masters tournament on April 9, 2017. That same expression was hung on Phil Mickelson until he won the Masters in 2004, after being on the PGA tour and qualifying 11 times before winning. "Lefty" has won the Masters twice since, 2006 and 2010. Is monkey on your back real?
What does that expression mean? Where did it come from? History tells us, it was applied to Sinbad the Sailor encountering the Old Man of the Sea (we'll let you research that). It was often applied to someone addicted to drugs and unable to get rid of that disease. Years ago some said it applied to those who had to carry (on their shoulders) a heavy house mortgage. Hmm, maybe it wasn't that long ago. Is it metaphorical? If you have ever played golf, you know it is real! In golf, an expression called the "yips" plagues a golfer and often seems like it will never go away! The movie "Tin Cup" starring Kevin Costner as Roy McAvoy, an amateur playing in the U.S. Open, experienced the yips and tried every trick to get rid of it.
Monkey on your back and the "yips" are similar since they both contain an unknown characteristic not necessarily caused by any action taken by the athlete. The monkey label is most often applied by the media or outside influences. You could also make a case for someone experiencing the yips. In both cases, it is not something the athlete did on purpose or even accidentally. When outside influences override one's mindset, more likely it is that person has lost confidence.
In our book "It's the Will, Not the Skill" Herm Edwards, former NFL player as well as head coach and now ESPN analyst. makes a strong case for: "You can lose your momentum, but never lose your confidence." That loss of momentum could well have taken place in Garcia and/or Mickelson, but when they did shrug off outside rhetoric, they maintained the confidence that got them where they are now.
Will you log-in your thoughts on how either of these characteristics can be overcome?
- – – – – – – – – – – – – – – – – – – – – – – – – -
To contact Jim, go to JimTunney.com or email Jim@JimTunney.com.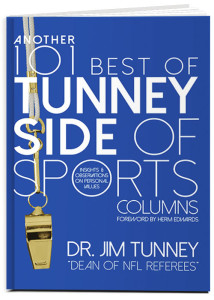 Be sure to get Jim's book 'Another 101 Best of TunneySide of Sports' by clicking this link or using the email above to contact Jim directly.
These TunneySides take issues from real-life situations and relate them as inspiration for the betterment of others.
---