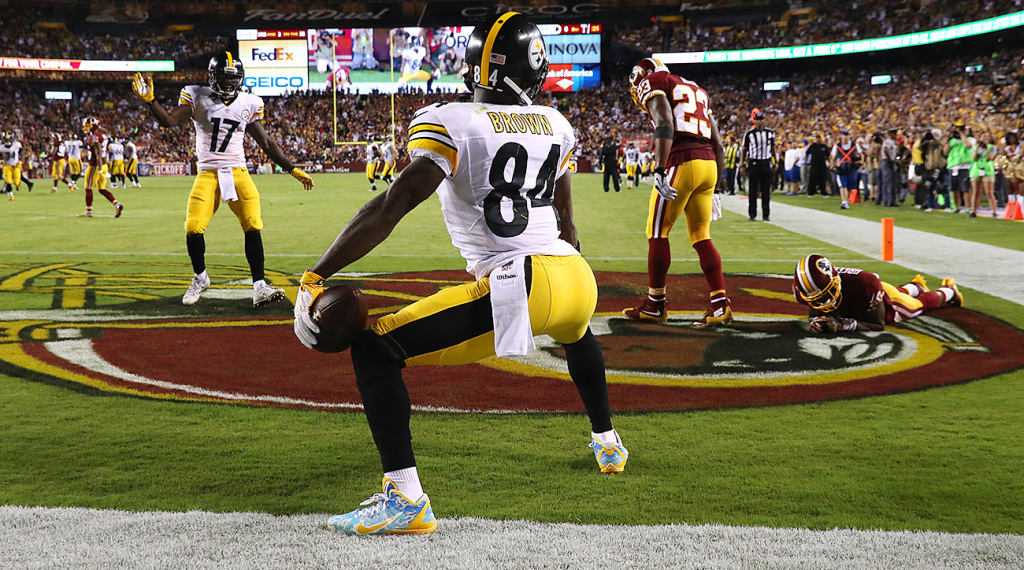 ON THE TUNNEYSIDE OF SPORTS December 5, 2016 #621 Up next…Outlandish Celebrations – A Distraction?
After Further Review…Pittsburgh Steelers quarterback Ben Roethleisberger (#7) along with Steelers Head Coach Mike Tomlin have openly criticized Steelers wide receiver Antonio Brown (#84) for "excessive celebrations" after scoring a touchdown. Those celebrations have cost Brown several thousand dollars in NFL fines, but more importantly the T*E*A*M has been assessed a 15-yard penalty each time. Roethleisberger and Tomlin claim it has put the Steelers' defense in a vulnerable position, with their opponents gaining a kickoff-return advantage.
Brown is a talented receiver, and at this writing leads the NFL with 82 receptions and 10 touchdown catches. Some of his celebrations bordered on the obscene. Brown, you may recall, was a "Dancing With The Stars" contender, but was eliminated in the semi-finals of Season 22– May, 2016. Brown's rise to NFL fame is to be commended. He earned All-American honors as a punt returned from Central Michigan, but went late in the 2010 draft at #195 (sixth round). At five feet ten, he was not considered a top prospect. That did not detour him, as he recently announced: "I went from the underdog to the top dog. I started from the bottom and now I am here." In 2012 the Steelers signed him to a five-year, $42.5 million contract.
The several thousand dollars in fines has not made a financial impact on Brown as he continues his celebrations. Breaking down his $42.5 million into each touchdown catch ranges near $6,500. per catch. Does he really need to draw this attention to his game? For many years, and this is where Roethleisberger plays a part, veteran players would take it upon themselves to call upon a teammate who places himself above the T*E*A*M. Reprimands would include: "We don't do that on our team," or "that's not who we are." The attitude of today's players seems to avoid that father-type advice. Some consider showboating as a lack of respect for opponents.
The NFL, aka by some, as the "No Fun League," has clamped down on excessive celebrations. Who's to blame for such regulations? It's the opinion here that it's the players themselves! Each such celebration is followed by another, who must outdo anything previously done. Where will it end? Will the players themselves put an end to it?
Will you log-in on your thoughts about excessive celebrations?
To contact Jim, go to JimTunney.com or email Jim@JimTunney.com.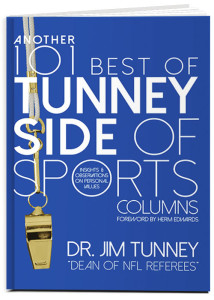 Be sure to get Jim's book 'Another 101 Best of TunneySide of Sports' by clicking this link or using the email above to contact Jim directly.
These TunneySides take issues from real-life situations and relate them as inspiration for the betterment of others.