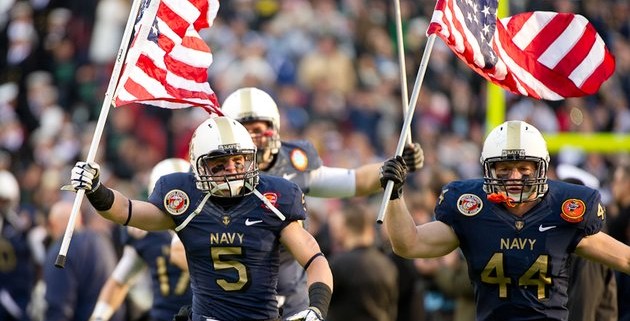 On the TUNNEYSIDE of SPORTS December 19, 2016 #624 Up next…What If….?
After further review…What if you saw a major college or professional football game and…
…there were only two fouls called and enforced the entire game?
…both fouls were on one T*E*A*M and none (yep, zero) were called on the other?
…not a single player scored a touchdown and spiked the ball in the end zone?
…there were no self-congratulatory gyrations after scoring a touchdown?
…there was absolutely no trash talking among players?
…there were no IBW's (illegal blocks in the back)? … no receivers spun the ball after catching a pass downfield?
…there was no player who advanced the ball, got up and signaled "first down"?
…there were no "chop" blocks (illegal blocking below the waist)?
…there were no face mask fouls (grabbing the face mask when tackling or blocking)?
…no defender pounded his chest or pranced around after sacking the quarterback?
…there was no pushing or shoving an opponent after the whistle blew?
…there were no unsportsmanlike conduct fouls?
…there was no leaping into the stands after scoring a touchdown?
…there was no jumping in the air with players colliding celebrating a successful play?
But instead, what if you saw two teams playing hard, with fierce blocking and tackling, to win the game? What if you saw players helping an opponent up after knocking him down? What if you saw players scoring a successful touchdown and just dropping the ball or handing it to an official? What if you saw both teams standing in respectful silence while their opponents' Alma mater song was played? Would you would have been impressed with respect on display, for the other players and for the game itself? Would you have enjoyed the game?
Well, such a game did occur on Saturday, December 10, 2016. It was the 117th Army-Navy game, played at the M&T Bank Stadium in Baltimore, Maryland. While Navy came in with a 9-4 record, having been ranked as high as #22 in the AP and Coaches poll, the Cadets of Army upset the Midshipmen of the Naval Academy to win the Commander-in-Chief's Trophy by a score of 21-17. The Black Knights victory broke a 14-game winning streak by the Midshipmen, who hold a 60-50-7 advantage in this rivalry. Both teams will be playing in post-season bowl games.
Will you chime in on your opinion of this type of football game?
To contact Jim, go to JimTunney.com or email Jim@JimTunney.com.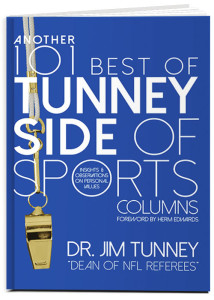 Be sure to get Jim's book 'Another 101 Best of TunneySide of Sports' by clicking this link or using the email above to contact Jim directly.
These TunneySides take issues from real-life situations and relate them as inspiration for the betterment of others.