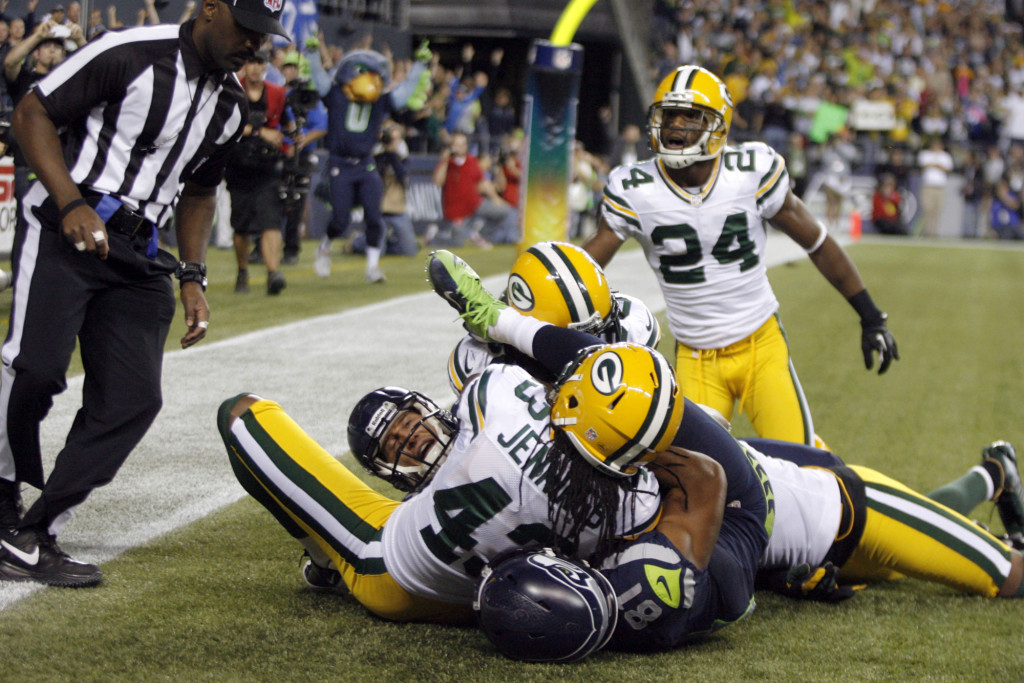 On the TUNNEYSIDE of SPORTS November 7, 2016 #618 Up next… Inattentional blindness!
After further review…"Inattentional blindness." Huh? What's that, and what's it got to do with sports? Inattentional blindness is what magicians use to successfully perform their illusions. It's as old as Houdini himself. (I was going to say "as old as Giovanni Livera," the best magician/speaker I know, but Gio's not that old.) Inattentional blindness makes us miss what our eyes can plainly see, if our attention is focused elsewhere; the brain filters out visual information it considers secondary to its current analysis of the sensory world. Have you ever sat close enough and watched intently as magic was performed "right before your very eyes?" Your eyes never wavered, but you still couldn't figure out how the magician accomplished his feat. There was something you missed. When I once asked Gio "How'd you do that?" he responded "Very well"—his pledge to secrecy.
Some may refer to magicians' tricks as "misdirection." Maybe so, but inattentional blindness is not the same. Misdirection causes you to look at a new subject. Inattentional blindness is a phenomenon that explains how one can fail to perceive what one is looking directly at. So, what's the sports connection?
You may recall a Monday Night Football game between Green Bay and Seattle on September 24, 2012. That game yielded the infamous "Fail Mary" pass made by Russell Wilson of the Seahawks on the game's final play. Just prior to the "simultaneous catch" in the end zone that gave the victory to Seattle, there was an obvious offensive pass interference committed by the Seattle receiver. Now, I'm certain that the replacement official whose responsibility it was to call that OPI foul knew what offensive pass interference was, and probably had called it many times. He was looking right at it, but didn't see it. Several thousand viewers saw it. So, why couldn't the official? Inattentional blindness. He was focused on the reception he expected to see, not what led up to it. And so the shove didn't register. The missed call hastened the return of regular officials from their lockout, and illustrated the difficulty that can complicate even the plainest calls in hindsight.
A lingering question is how do we, in our daily lives, avoid inattentional blindness? In this age of constant, rapid delivery of information, we are tempted to think that "multi-tasking" is the way to go. But in fact, our brains don't work that way. They focus on one thing at a time, and prevent potentially distracting information from entering our conscious awareness. So, for example, talking on cell phones or texting while driving can "hog" attention away from other vital signals, and the dangers of that are well known. Magicians exploit this phenomenon for our entertainment. We can train ourselves to minimize it to avoid the pitfalls of 'tunnel vision.'
Will you continue to shift your attention in order to see all of the important things that are right in front of you?
To contact Jim, go to JimTunney.com or email Jim@JimTunney.com.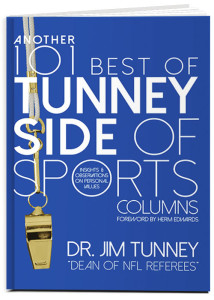 Be sure to get Jim's book 'Another 101 Best of TunneySide of Sports' by clicking this link or using the email above to contact Jim directly.
These TunneySides take issues from real-life situations and relate them as inspiration for the betterment of others.