On the TUNNEYSIDE of SPORTS May 23, 2016 #594 Up Next…" Ball-Brawls!"
After further review…"Grab, Grab, Grab" a former coach was heard to yell from his sideline coaching box. No, he wasn't talking about today's NBA style of professional basketball. With pressing defenses, the defensive player being in very close contact with an offensive opponent, players are plainly seen grabbing onto the arm or body of the cutting player. Game officials do see that contact and could call a foul, but it is obvious that the NBA rule makers are allowing it to occur. Maybe the TunneySide has overlooked and somehow missed the logic or attraction of that deviation from basketball's original rules.
The above quote is attributed to Vince Lombardi, former head coach of the Green Bay Packers of the NFL. Coach Lombardi would follow those three words with "Nobody's tackling any more – just grab, grab." Is that the direction of the NBA? Well, if you listen to ESPN/NBA analyst Jeff Van Gundy encouraging physical contact when he says "Ya gotta lay some 'wood' out there." Or Charles Barkley, former player, and now TNT/NBA analyst when he says "You can't let that happen. Take somebody out" in response to a T*E*A*M setting the single-game 3-point record.
That sort of play carries an odor that the TunneySide decries in today's style of both coaching and performance. And speaking of odor – how about Rougned Odor, who plays second base for the Texas Rangers, and received an eight-game suspension for the right cross he placed on Toronto Blue Jays outfielder Jose Bautista's jaw (for more on Bautista see his "take that- bat flip" in the 2015 ALSD game five against the Rangers). In a game on May 8, 2016 (Mother's day of all things!), Bautista was angry that Rangers pitcher Matt Bush "plunked" him. A couple batters later Bautista, now a base runner, executed a late and aggressive take-out slide on Odor. This triggered the bull's-eye punch from Odor and preceded a massive bench-clearing brawl, resulting in six players (three from each team) being suspended for a total of 17 games while eight others were given fines.
With high school and college baseball playoffs just under way and Little League games coming up in the summer, how can we expect our younger generation to properly play America's Game?
Will you respect your opponent – and the game of baseball – by avoiding such unwarranted expressions of behavior and letting the powers-that-be deal with such?
To contact Jim go to JimTunney.com or email jim@jimtunney.com.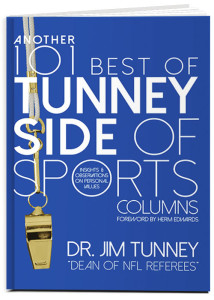 Be sure to order your copy of "Another 101 Best of TunneySide of Sports" now available for $20. includes tax, shipping, and autograph if requested. This book takes issues from the sports world and transforms them into positive messages for productive living.
To order your autographed copy click here.