On the TunneySide of Sports December 18, 2017 #671 Up next…Heisman Trophy's higher standards
After further review…Baker Mayfield was awarded the Heisman Trophy for his stellar 2017 season as the quarterback for the University of Oklahoma. Mayfield is a senior student-athlete at O.U. It delighted this writer that the award went to a senior, and not an underclassman, as has been the recent trend.
Mayfield had a storied career and now can add being the first walk-on to win this award. He received the third-highest number of votes in Heisman history. Mayfield is the first senior since 2006 to be awarded this prestigious honor.
The TunneySide has always believed that the Heisman should go to a senior, whose college eligibility has been exhausted. The Heisman selection committee, created by the Downtown Athletic Club in 1935 — when Penn's Jay Berwanger was the first recipient — has stuck by its creed of selecting the "most valuable college football player whose performance exhibits the pursuit of excellence with integrity."
It's that last part that has come into question with Mayfield. During a November game with the University of Kansas, the Jayhawks' captain refused to shake hands with Mayfield during the pre-game coin toss. Late in that game when the Sooners were assured of the win, Mayfield grabbed his crotch and cursed across the field at the Kansas sidelines.
Sooners coach Lincoln Riley suspended Mayfield from the starting lineup and removed him as captain for their next game, although Mayfield did play later in that game and threw for three touchdowns. Mayfield has apologized for this abhorrent behavior and some have just passed it off as "college-kid" antics.
Riley, at 33, is just 11 years older than Mayfield. When the committee awarded the Heisman Trophy to Navy's Roger Staubach (1965) and Stanford's Jim Plunkett (1970), the integrity component was held to a higher standard. It is the hope here that Mayfield's career, be it in the NFL or elsewhere, guides him in the direction of moral integrity. For some Heisman winners in recent years, it hasn't.
But the issue worth celebrating here is the award going to a senior, not an underclassman. Also interesting is that 2016 Heisman winner, Louisville quarterback Lamar Jackson, who won it as a junior, finished third in 2017. Did Jackson's play this year become that much worse than in 2016?
There are at least a dozen senior players every year that are worthy of Heisman consideration. Despite the polarizing behavior of Mayfield, it is good to see a senior recognized with college football's highest honor. Here's hoping he holds himself to that high standard.
Will you log-in your feelings about the process of awarding the Heisman Trophy?
- – – – – – – – – – – – – – – – – – – – – – – – – -
To contact Jim, go to JimTunney.com or email Jim@JimTunney.com.
Jim's books are full of inspiration and interesting stories. Please visit his online store to learn more.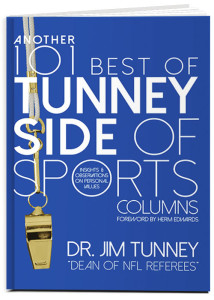 Be sure to get Jim's book 'Another 101 Best of TunneySide of Sports' by clicking this link or using the email above to contact Jim directly.
These TunneySides take issues from real-life situations and relate them as inspiration for the betterment of others.
Jim is available for speaking engagements on leadership and T*E*A*M Building. His books are available for $20 which includes shipping and tax. The Tunney Bobblehead is available for $30. Please visit JimTunney.com. Thank you!