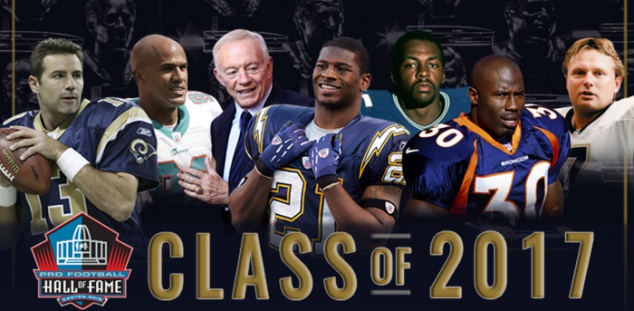 On the TUNNEYSIDE of SPORTS August 14, 2017, #653 Up Next… "Hall of Fame"
After further review…The Class of 2017 was enshrined into the Profootball Hall of Fame this past weekend in Canton, Ohio, the home of the NFL's elite. The 2017 Class included Kenny Easley, a free safety selected by the Seniors Committee, who questioned why more free safeties had not been inducted. Dallas Cowboys owner, Jerry Jones, selected by the Contributor's Committee, largely recognized for advancing the NFL through his marketing skills. Jason Taylor, defensive end for the Miami Dolphins and running back Terrell Davis, whose short tenure of seven seasons for the Denver Broncos were brilliant enough for the Hall's consideration. Davis also questioned why more running backs were not enshrined. That begs the question of why no on-field officials have never been selected.
Kicker Morten Anderson, the NFL's all-time scoring leader, was only the second placekicker to be selected and advocated for more recognition of kickers and punters. Kurt Warner, quarterback with the St. Louis Rams and the Arizona Cardinals who went undrafted out of college and plied his trade in the Arena League; and lastly LaDainian Tomlinson, a running back for the San Diego Chargers and the New Orleans Saints. More on L.T. later.
The hall has grown dramatically under the leadership of current CEO David Baker. There is a new stadium in the name of Tom Benson, owner of the New Orleans Saints, who donated ten million dollars to rebuild the Fawcett Stadium and additional monies to rebuild and enhance the exhibit hall. The stadium, although providing luxury suites, will seat only 23,000, being designed to that capacity to make it "family-centered" to be used for local high school games.
Although the speeches of the seven inductees were all heartfelt, the message by LaDainian Tomlinson (L.T.)  captured the essence of America. Tomlinson is the son of his great-great-great grandfather George, who was brought to this country as a slave by landowner Tomlinson. George tilled the soil for his slave master, and later adopted the name of Tomlinson. LaDainian explained how he (then) is "mixed race." He stressed how all of us are immigrants, save the American Indian, and that we need to work together. L.T. is proud of his heritage and wants to spend the rest of his life helping others.
Will you heed L.T.s message of inclusion in your life's journey?
- – – – – – – – – – – – – – – – – – – – – – – – – -
To contact Jim, go to JimTunney.com or email Jim@JimTunney.com.
Jim's books are full of inspiration and interesting stories. Please visit his online store to learn more.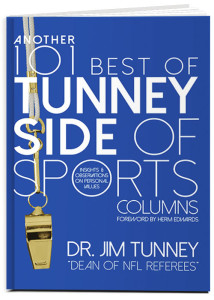 Be sure to get Jim's book 'Another 101 Best of TunneySide of Sports' by clicking this link or using the email above to contact Jim directly.
These TunneySides take issues from real-life situations and relate them as inspiration for the betterment of others.
Jim is available for speaking engagements on leadership and T*E*A*M Building. His books are available for $20 which includes shipping and tax. The Tunney Bobblehead is available for $30. Please visit JimTunney.com. Thank you!
---