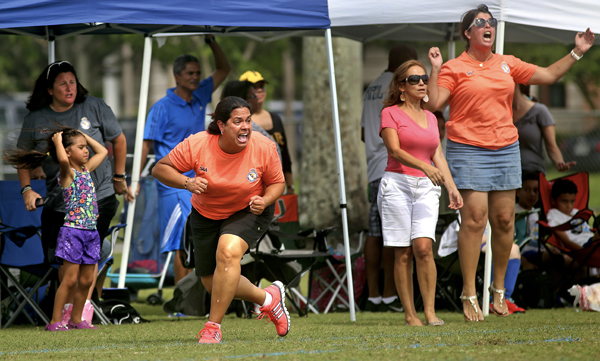 On the TUNNEYSIDE of SPORTS June 26, 2017, #645 Up Next… "I really enjoy"
After further review…"I really enjoy watching you play" is one of the best statements parents can make to their youngsters who play sports. As the school year ends and summer athletic leagues begin, sports are a great avenue for youth to learn values that can serve them well later in life. However, all too often a child's enjoyment can be diminished by overbearing parents who have forgotten that little leagues are not major leagues.
A recent headline caught my eye: "Can Parents Easily Get Coaches Removed?" Having sat in the stands as a parent, I have watched parents scream at their youngster for making a mistake or not making a play that from the stands appeared to be obvious. They berate coaches for not giving their child enough playing time or unleash a tirade on an umpire or referee for a call on the field. When a parent becomes too invested in the outcome of the game, their child is deprived of the experience of earning a victory or owning a defeat with any independence.
How about winning? If the T*E*A*M doesn't win –- and that often means every game –parents blame the coach and want him/her removed. Too many parents inject themselves into the relationship between a coach and the players by offering their own advice or critiques. This undermines the very backbone of all organized sports, and the entire reason we have coaches in the first place. These parents seem to think that their kids need to be accustomed to winning all the time, and feeling that losing is unacceptable. But while a healthy competitive spirit is important, we all know that no one wins every game.
And that becomes one of the characteristics of playing any game! While playing to win should be the intent every time, the TunneySide sees value in the disappointment of coming up short. Learning how to personally deal with losing is a vital skill for an athlete as they move forward, and the competition gets more intense. It is a disadvantage for an individual who hasn't properly learned how to experience losing because that resiliency can be applied in all facets of life – not just sports.
Sports can build self-esteem and confidence and that's where parents – and coaches – can do the most good. All too often parents and coaches are mostly interested in developing game skills. Yet, the true value in sports is learning to develop the skill of self-confidence. When one develops that trait, dealing with life's challenges becomes a less daunting task.
Will you log-in about parents' role in being involved with their youngsters' sports?
- – – – – – – – – – – – – – – – – – – – – – – – – -
To contact Jim, go to JimTunney.com or email Jim@JimTunney.com.
Jim's books are full of inspiration and interesting stories. Please visit his online store to learn more.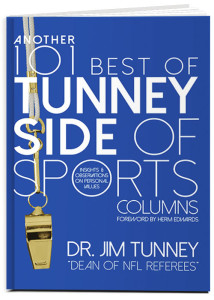 Be sure to get Jim's book 'Another 101 Best of TunneySide of Sports' by clicking this link or using the email above to contact Jim directly.
These TunneySides take issues from real-life situations and relate them as inspiration for the betterment of others.
Jim is available for speaking engagements on leadership and T*E*A*M Building. His books are available for $20 which includes shipping and tax. The Tunney Bobblehead is available for $30. Please visit JimTunney.com. Thank you!
---