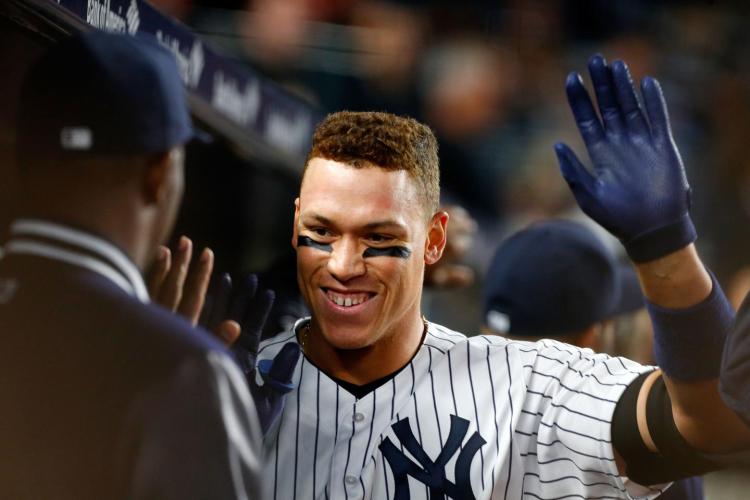 On the TUNNEYSIDE of SPORTS May 22, 2017, #641 Next… "All Rise!"
After further review…Or perhaps you prefer the late "Pigmeat" Markham's hit song title "Here Comes The Judge." When you hear that command, it usually means you are in a courtroom and the judge in entering to take his seat to preside over a trial. In either case, you would hardly expect it to be said by Paul Olden, the New York Yankees public address announcer, when #99 steps into the batter's box. While Olden's voice is not the iconic Long Island accent of the late Bob Sheppard, whose style of speaking remains unmatched, it is surely an honor for Olden, a Los Angeles product, to have this job.
That #99, the "Judge," in case you haven't notice is Aaron Judge in his second season as the Yankees' right fielder. Standing 6'7″ and weighing 282 lbs., it behooves each of us to follow that command. Wait a minute — are we asking you to put Judge in the class of Ruth, Gehrig, DiMaggio, Mantle, Maris et al? Well, maybe not yet. But Judge has hit 14 homers in the Yankees first 30 games this season. Further, and maybe that word should be farther, his home run shots are averaging 406 feet, the longest of which was 457 feet. He is currently leading the American League in almost every offensive category. If his Herculean size doesn't get your attention, his power surely will!
However, this article is not so much about what he is doing at the plate or in the outfield, where his size and reach are robbing opponents of doubles and triples. What is impressive is who he is on the inside! Perhaps his demeanor comes from good parenting. He was adopted at birth by Patty and Wayne Judge, who are both teachers. The family lives in the small town (population under 2000) of Linden, California, a farming community not from Stockton.
When he played at Fresno State, which has a system of fines for players' negative behavior, Judge was never fined! Even on a professional athletes' salary, he lives today in the guest room of a teammate or in a small hotel near Times Square. While other New Yorkers are out partying, Judge is in bed. He says he prefers going to bed early so he can be at batting practice early the next day. He spent his off-season last year working on his stance (you can imagine the size of his strike zone!) and becoming more familiar with the variety of pitches he would face. His attitude as a professional athlete is to be admired.
Will you appreciate the approach this young athlete has toward his work ethic?
- – – – – – – – – – – – – – – – – – – – – – – – – -
To contact Jim, go to JimTunney.com or email Jim@JimTunney.com.
Jim's books are full of inspiration and interesting stories. Please visit his online store to learn more.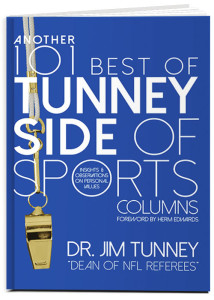 Be sure to get Jim's book 'Another 101 Best of TunneySide of Sports' by clicking this link or using the email above to contact Jim directly.
These TunneySides take issues from real-life situations and relate them as inspiration for the betterment of others.
---