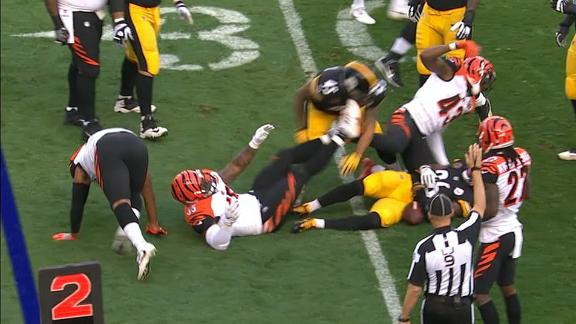 On the TunneySide of Sports October 30, 2017 #664 Up next… That's not what football…
After further review…A recent pile-up of NFL players resulted in one player kicking an opponent after the play was over. There was nothing apparent that provoked the player who delivered the kick. A teammate of the player who was kicked responded by saying, "That's not what football is all about." That same perpetrator was disciplined last year with a five-game suspension for a late hit on a defenseless player. Some players just don't get it!
Further, before a Thursday night game a couple of weeks ago, the introduction by Ving Rhames was a promotional monologue that romanticized competition fueled by temporary hate. I have admired Rhames not only as an actor but for his magnanimous gesture two decades ago when he gave his Oscar to Jack Lemmon because "giving back is what this profession is all about." However, Rhames could have declined this spot. No matter how tongue-in-cheek it was intended to be, his incitement of a hateful state of mind was in poor taste. I could imagine young athletes watching that piece thinking that they must hate their upcoming opponent.
Football has been around for over a century, but lately has been criticized for the damage it may cause to the brain and the body. In the last two weeks, two NFL quarterbacks have been lost for this season with injuries. There is no question that football is physically tough on players. Today, many parents wonder whether they should allow their sons to participate. These concerns are real and are shared by a wide sampling of families. I have a son who played, and a grandson playing today at the high school level. Hmmm.
Over the years it has been said that sports teach discipline, e.g., boundaries. The league and teams have rules which all players must follow. In the TunneySide's view, some of these boundaries seem to have diminished as players act on an exaggerated sense of freedom to express themselves however they please. One such boundary was ignored recently when a player ran from the bench to intervene in a fight that broke out on the field. Said player ran onto the field and in the process, grabbed an official. He was suspended for the next game.
Is hatred a part of playing football, or for that matter any sport? Not in the TunneySide way of approaching competition. One should approach competition with an attitude of gratitude based on preparation, and focus. It's one's effort and determination that counts. Respect for an opponent will serve you well in all you do.
Will you play to win, yet respect your opponents as you want them to respect you?
- – – – – – – – – – – – – – – – – – – – – – – – – -
To contact Jim, go to JimTunney.com or email Jim@JimTunney.com.
Jim's books are full of inspiration and interesting stories. Please visit his online store to learn more.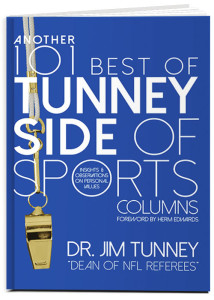 Be sure to get Jim's book 'Another 101 Best of TunneySide of Sports' by clicking this link or using the email above to contact Jim directly.
These TunneySides take issues from real-life situations and relate them as inspiration for the betterment of others.
Jim is available for speaking engagements on leadership and T*E*A*M Building. His books are available for $20 which includes shipping and tax. The Tunney Bobblehead is available for $30. Please visit JimTunney.com. Thank you!
---