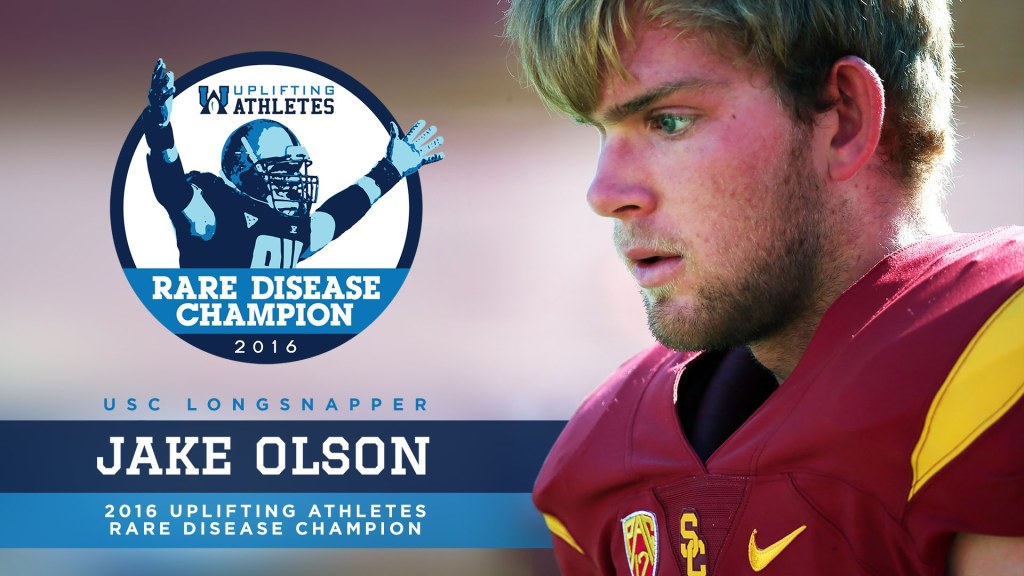 On the TUNNEYSIDE of SPORTS September 11, 2017, #658 Up Next… "There's beauty in it!"
After further review…Pete Carroll, current head coach of the Seattle Seahawks was the head football coach at the University of Southern California (2000-2009) who brought the Trojans 2 national championships. Although Carroll left U.S.C. with a recruiting scandal that cost the Trojans athletic scholarships, he took his personal skills into the southern California community to help others. One of those that caught Carroll's attention was Jake Olson, listed currently as #61 in your Trojan football program, but soon to be #1 in your heart.
You see, Olson is blind!
Yes, a blind football player on a major college football team (D-1)! He is the long-snapper – that's the player who snaps the ball to the holder of a placekick for the extra point. Olson, a 6'4" – 20-year-old junior, has been blind since age 12. He was born with retinoblastoma, cancer of the retina, and had his left eye removed when he was a baby, followed by the removal of his right eye at age 12. His long-snapping began at Lutheran High School in Orange County, CA. His early ambition was golf, as he wanted to be the "first blind golfer to play on the PGA tour."
His long-snap in the game against Western Michigan at the Los Angeles Coliseum earlier this month contributed to U.S.C.'s 49th point. It all came about when current U.S.C. coach, Clay Helton, called Western Michigan coach Tim Lester. Helton told Lester of his plan and is reported to have said. "When you score your first touchdown in our game, our defensive lineman will not rush to block your try-for-point. In return when we score our last touchdown, we will put Olsen in the game as our long-snapper and ask you do the same." Lester agreed.
When the Trojans' Marvel Tell III returned an interception for S.C.s final touchdown, Helton called timeout. Olson trotted onto the field with his hand on the shoulder of Wyatt Schmidt, the placekick holder. The umpire placed his hand on Olsen's shoulder telling him to wait until all players were in proper position, then he tapped Olson twice indicating it was okay to snap. As planned, the Bronco players stayed frozen. The snap was flawless and the kick split the uprights. U.S.C. won the game 49 – 31.
The Trojans' special teams coach, John Baxter, put it in perspective when he said, "Certain things are bigger than the game." Olson followed with, "If you can't see how God works things out, then you're the blind one. That's the beauty of it."
Will you see sports as something bigger than just a game?
- – – – – – – – – – – – – – – – – – – – – – – – – -
To contact Jim, go to JimTunney.com or email Jim@JimTunney.com.
Jim's books are full of inspiration and interesting stories. Please visit his online store to learn more.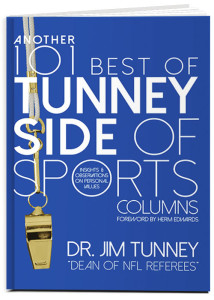 Be sure to get Jim's book 'Another 101 Best of TunneySide of Sports' by clicking this link or using the email above to contact Jim directly.
These TunneySides take issues from real-life situations and relate them as inspiration for the betterment of others.
Jim is available for speaking engagements on leadership and T*E*A*M Building. His books are available for $20 which includes shipping and tax. The Tunney Bobblehead is available for $30. Please visit JimTunney.com. Thank you!
---