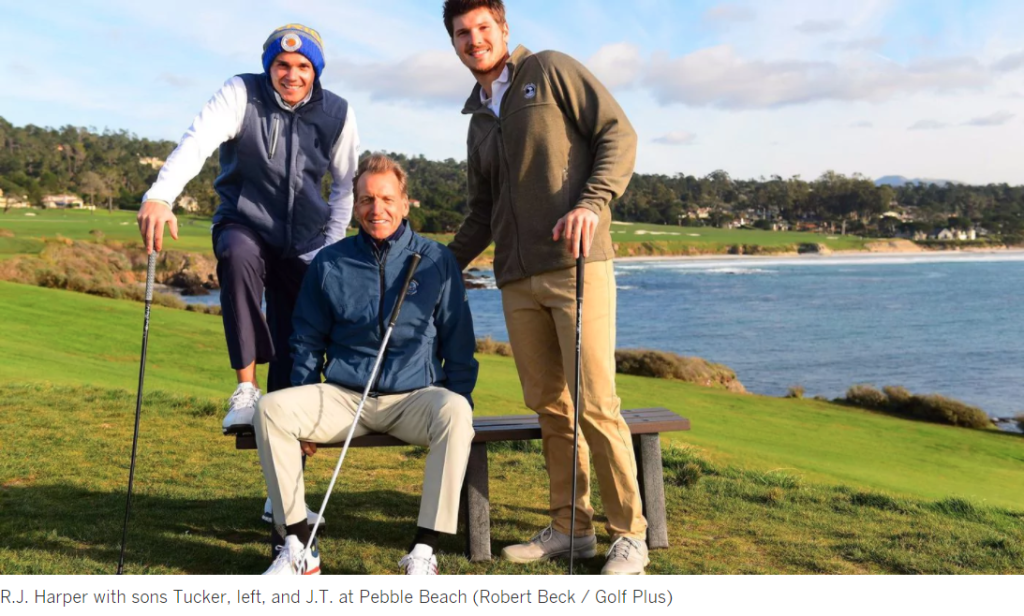 On the TunneySide of Sports November 20, 2017 #667 Up next… A Tribute!
After further review…During each of our lives, we encounter special people who make a lasting impression. Sometimes those special people are only in our lives for a short time and are taken from us all too soon. Such was the case with my good friend R.J. – all anyone needed to say was "R.J." and everyone knew who you meant. His iconic smile and friendly attitude were infectious. He grew up in a simple, blue-collar environment in Memphis, Tennessee, but his life concluded in the upscale community of Pebble Beach. R.J. Harper was always a straight-forward, easy-to-meet guy you'd like to have as your best friend. He was one of mine. But then, anyone who knew R.J. thought that of him. He greeted and treated the new employee who raked the bunkers the same way he treated his bosses.
My friendship with R.J. began 30 years ago. He was a member of the Jim Tunney Youth Foundation Board of Directors for which he served with dignity. I am fortunate to have considered him a colleague, but it is his friendship that I cherished the most.
In his twenties, R.J. made his way across the U.S. to achieve his dream of playing golf on the Pebble Beach Golf Course. He began working there as a marshal for $5.00 an hour in the mid-80s, and his daily regimen of hard work, perseverance, and a friendly attitude helped him work his way through the culture of the company to become the Executive Vice President of golf of the Pebble Beach Company's four golf courses. His stature in that role ranks with the most celebrated executives of the golf world – Jim Langley of Cypress Point, Eddie Merrins of Bel-Air, Bob Ford of Oakmont, and Craig Harmon of Oak Hill.
Hall of Fame golfer Jack Nicklaus said of Pebble Beach that if he had one last golf game to play, he would like it to be those 18-holes of Pebble Beach. Nicklaus is among those names you could count on as R.J.'s close friends – you'll find every legend of the game on that list. First and foremost, would be Hall of Fame golfer Arnold Palmer, who died in September 2016. He considered R.J. a dear friend, although the age difference was more of a father and son. R.J. was unable to attend Palmer's memorial service since that was the month he was diagnosed with pancreatic cancer. He endured that fight with courage and strength for 14 months.
As R.J. fought this dreadful disease his two sons, Tucker and J.T., were at his side throughout, as was his former wife Kelly, along with his boss, Pebble Beach CEO Bill Perocchi, and his wife Nanci. Although he has passed away, R.J.'s kindness and positivity have left a lasting mark on our entire community. He will truly be missed.
Will you emulate the smile and friendliness of R.J. when you meet others?
To donate to the R.J. Harper Pebble Beach Jr. Golf Scholarship, please send your gift to the Jim Tunney Youth Foundation (501c3) P.O. Box 1440 Pebble Beach, CA. 93953.
- – – – – – – – – – – – – – – – – – – – – – – – – -
To contact Jim, go to JimTunney.com or email Jim@JimTunney.com.
Jim's books are full of inspiration and interesting stories. Please visit his online store to learn more.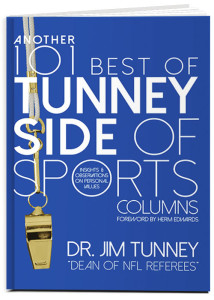 Be sure to get Jim's book 'Another 101 Best of TunneySide of Sports' by clicking this link or using the email above to contact Jim directly.
These TunneySides take issues from real-life situations and relate them as inspiration for the betterment of others.
Jim is available for speaking engagements on leadership and T*E*A*M Building. His books are available for $20 which includes shipping and tax. The Tunney Bobblehead is available for $30. Please visit JimTunney.com. Thank you!
---