ON THE TUNNEYSIDE OF SPORTS November 28, 2016 #621 Up next…                       NFL Un-Reffable?
After Further Review…This question appears all too often in sports articles: "Has the NFL Become Un-Reffable (sic)"? This writer would disagree – but I guess you knew that. My 31-year tenure as an on-field NFL official (25 years in the position of Referee) provides me with the background to make that evaluation. Mike Pereira, formerly vice president of NFL officiating and now an analyst at Fox broadcasting told the Wall Street Journal, "We are at a point with officiating that we have never been before. I get striving for perfection, but we are at a point that anything less than perfection is unacceptable." Perfection is and always has been the goal of NFL officiating. However, as in all human endeavors, perfection is elusive.
As an example, and with no discrimination toward the individual in question, I present the case of a Monday Night football game I watched some time ago, the Denver Broncos playing at home. Quarterback John Elway, whom I knew when he was quarterbacking the Granada Hills Highlanders in Southern California (and now for whom their football stadium is named), had just thrown an interception. The broadcaster asked Joe Theismann, the analyst in the booth, how it had happened. Theismann, who spent 12 years as the quarterback of the Washington Redskins, said "Well, Elway misread the coverage." What? Elway, a sure NFL Hall of Famer (inducted in 2004), misread the coverage? Yes, it does happen to those involved in making split-second decisions.
Having spent three seasons recently as an NFL officials' mentor/trainer, I can assure you that the present group of 122 NFL officials are the best available! Being present at their pre-game meetings, I am fully aware of the time and effort they spend in preparation during the week and on the day prior to their weekly game. They leave no stone unturned to be the best T*E*A*M on the field every time. Yes, there are three teams on the field; yet the team of seven officials is the only one who never gets a home game. Quarterbacks will throw interceptions (mistakes); receivers will drop passes (mistakes); lineman will miss blocks (mistakes); and defenders will miss tackles (mistakes). These all take place in nano-seconds.
Officials make mistakes in that same time frame. Yet you and I can sit at home and, with the aid of the various replays, can get the call right every time. Until you put on that striped shirt and walk onto that field with the best athletes in the world who play to win the game, criticism must be held in abeyance. Respect is more the question.
Will you judge every play, every action by an on-field official or player with the presumption that they are performing with the intention to do their very best – every time?
To contact Jim, go to JimTunney.com or email Jim@JimTunney.com.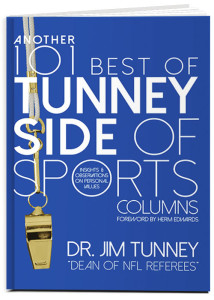 Be sure to get Jim's book 'Another 101 Best of TunneySide of Sports' by clicking this link or using the email above to contact Jim directly.
These TunneySides take issues from real-life situations and relate them as inspiration for the betterment of others.