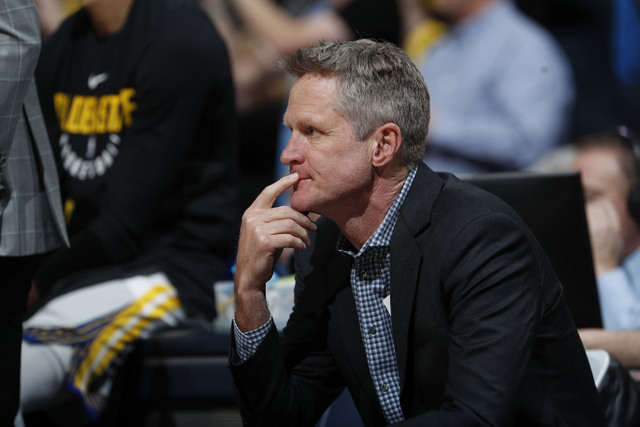 On The TunneySide of Sports February 19,  2018 #680 Up next…The Philosophy of Kerr!
After further review…Steve Kerr is the head basketball coach of the Golden State Warriors playing in the Western Conference of the National Basketball Association. I guess you knew that. He is 65, married to Margot and has three kids. He played basketball at Pali (Pacific Palisades) High in the Los Angeles School District and was recruited by the University of Arizona, where he played four years helping the Wildcats reach the Final Four In 1988. He was selected in the NBA second round by the Phoenix Suns and played for the Suns, Cavaliers, Magic, Bulls, and Spurs before becoming an analyst for TNT; then worked in the Suns front office. He is in his fourth year as Warriors head coach and has won two NBA championships.
Kerr is currently being criticized for delegating his time-out coaching responsibilities to his players on the Warriors T*E*A*M. This writer thinks that's a brilliant move. First and foremost, by doing so he involves ownership of his on-court system to the players themselves. It doesn't mean Kerr takes a seat in "nose-bleed" section of Oracle Arena. Far from that, he is sitting on the bench alongside his assistant coaches and within earshot of that designated player. We all learn better by doing (vs just listening) and understand better when we teach!
Some critics, particularly opponents, said it is disrespectful to them by allowing a player to discuss and explain on-court strategy to the five who are in-the-game. Nonsense! How much coaching do NBA players need anyway? These are the most gifted athletes playing the game. They have played since they were kids, all-through school games, with most playing in college and now in the NBA. They know how to play the game! Further, some say anybody can coach an NBA T*E*A*M. Hmm! Wonder why head coaches are fired so often?
Moreover, as Coach John Wooden of the U.C.L.A. Bruins (whose games I refereed for 11 years) would often say "Coaching takes place primarily in practice, in the meeting room, and on the court before the game. If you haven't prepared your T*E*A*M well before the game, trying to do so during the game often becomes futile." In this writer's opinion, coaches ought to be seated on the bench and enjoy their preparatory efforts.
Will you log-in your opinion on Kerr's coaching strategy?
- – – – – – – – – – – – – – – – – – – – – – – – – -
To contact Jim, go to JimTunney.com or email Jim@JimTunney.com.
NEW: Jim's new Podcast 'TunneySide of Sports' will be up and running shortly. Stay tuned. Meanwhile, he is available for speaking engagements. His bobblehead and books are listed on his website.
Jim's books are full of inspiration and interesting stories. Please visit his online store to learn more.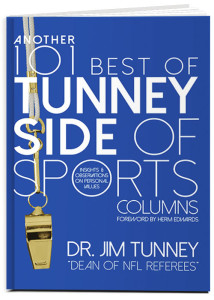 Be sure to get Jim's book 'Another 101 Best of TunneySide of Sports' by clicking this link or using the email above to contact Jim directly.
These TunneySides take issues from real-life situations and relate them as inspiration for the betterment of others.
Jim is available for speaking engagements on leadership and T*E*A*M Building. His books are available for $20 which includes shipping and tax. The Tunney Bobblehead is available for $30. Please visit JimTunney.com. Thank you!