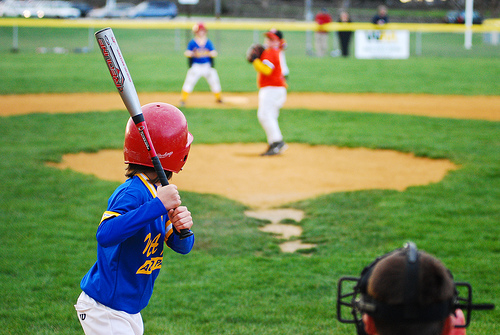 On the TUNNEYSIDE of SPORTS May 1, 2017, #638 Next… "Don't give up on others too soon!"
After further review…May is here and major league baseball is in full swing. Coaches are thinking about their Little League summer schedule. A friend sent me this coaching story:
"When I stepped in as interim coach for my son's Little League T*E*A*M, I met Harry. He is every coach's dream. He shows up for practice early, stays late and is enthusiastic.  However, he is also every coach's nightmare, as he has neither the instinct nor the physical talent for the game. He was a thin and awkward kid with his best throw about five feet and terrified when batting.
When Harry tried batting, he would close his eyes each time the pitch approached. So, as we prepared to play a team that beat us 22-1 previously, I went to the dugout and got a different bat for him, and said, 'I want you to use this bat. It's a magic bat. All you have to do is swing and it will hit the ball.' Harry was skeptical but said he would try.
Beating this overpowering team would be a challenge, but our kids were doing their best. When lo and behold, we came to bat in the bottom of the final inning with runners on first, second and third, bases loaded, and you-know-who was next at the plate That's right – it was Harry. Our opponents had already seen Harry at the plate and expected an easy out. How easy you ask? Well, all the infielders were in close (from their usual positions), the left fielder was lying on the grass, and the right fielder was chasing butterflies (oh, you've seen Little League games).
The pitcher was confident, having faced Harry earlier. First pitch, strike one. Harry didn't swing, but he kept his eyes open. Second pitch, he swung with his eyes open but missed. Strike two. Coaching from first base, I yelled, 'Good swing, Harry. You can do it.' Harry looked worried. The opposing coach yelled to his pitcher, 'Fire it past him and let's end this thing.' The pitcher threw a fastball and Harry swung. The magic bat did its trick. It found the ball, which sailed over the shortstop's head.
Harry stood in wonderment as I yelled, 'Harry run, run Harry.' As Harry ran toward first base, our entire T*E*A*M was cheering him on. Our three base runners were waiting at home plate when Harry, who had never run this far, finally crossed the plate. A Grand Slam! Tears were streaming down my face as I hugged Harry, who looked at me and excitedly said, 'Coach, the bat – the bat did it!' I said, 'No, Harry, it was you who hit the ball, not the bat.'"
Will you not lose faith in others who may appear less capable, until…?
- – – – – – – – – – – – – – – – – – – – – – – – – -
To contact Jim, go to JimTunney.com or email Jim@JimTunney.com.
Jim's books are full of inspiration and interesting stories. Please visit his online store to learn more.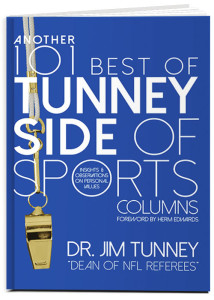 Be sure to get Jim's book 'Another 101 Best of TunneySide of Sports' by clicking this link or using the email above to contact Jim directly.
These TunneySides take issues from real-life situations and relate them as inspiration for the betterment of others.
---