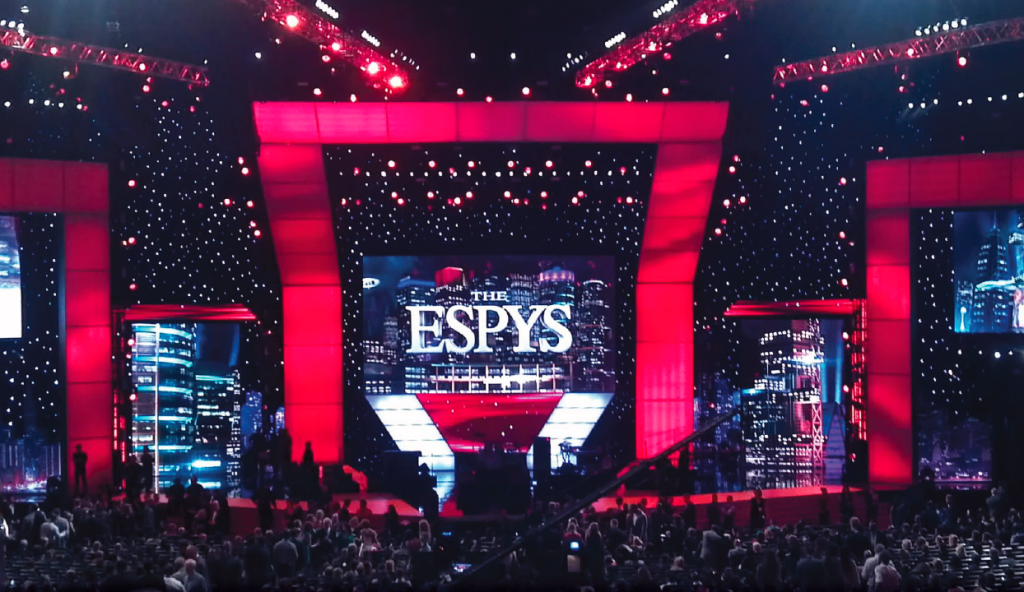 On the TUNNEYSIDE of SPORTS July 24, 2017, #650 Up Next…"The ESPY's"
After further review…Earlier this month, ESPN presented its 25th anniversary of the ESPYs Awards in Los Angeles, California. The TunneySide watched with personal interest as a fan of ESPN since it began in 1975. In 1994, I was fortunate enough to be asked to be a "bumper" for the second edition of the ESPYs, to which my first thought was, "What's a bumper?" That description was "We are asking you to be in your NFL uniform and, on cue, step to center stage, give the official time-out signal and say, 'Time out – we'll be right back after these messages.'" I did that four times during that show and have always looked forward to the event ever since.
This year the 25th ESPYs honored the late Eunice Kennedy Shriver with the Arthur Ashe Award, given in the name of the late legendary tennis player who was a longtime human rights campaigner. Shriver's son Tim Kennedy accepted the award with a dynamic speech about inclusion, specifically, the Special Olympics, which Shriver founded. Shriver's commitment to Special Olympics believed," Everybody has something to contribute and everybody deserves a chance." I was privileged to take part in the Special Olympics California Summer Games for several years and can testify that these special athletes give their all to win. They embody their motto, "Let me win, but if I cannot win, let me be brave in the attempt."
The other significant part of this year's ESPYs was the presentation of the Icon Award, given to Vincent Edward Scully. Scully, who retired as the Los Angeles Dodgers' broadcaster in October 2016 after 67 years, is a man I have considered a friend for 40 years and I can attest that he deserves every accolade for the grace and humility with which he appreciated the game and all the people he worked alongside. Scully said it was never a job, but something he enjoyed and looked forward to every game. He was the broadcaster with a marvelous voice and an unmatched choice of words. During one Dodgers' game, a ball was fouled back into the broadcast booth. Scully, with great aplomb, said on-the-air. "That sound you heard was a foul ball that crashed into our booth next to my wife Sandy, and almost nailed her." Classic Scully.
One disappointment of these ESPYs is that some of the athletes dressed as if they were going to the gym, instead of a prestigious awards event being televised nationally. With the evening comprised of such poignant moments, it would be nice to see a higher formal standard from our current sports role models.
Will you honor those so awarded with respect of their accomplishments?
- – – – – – – – – – – – – – – – – – – – – – – – – -
To contact Jim, go to JimTunney.com or email Jim@JimTunney.com.
Jim's books are full of inspiration and interesting stories. Please visit his online store to learn more.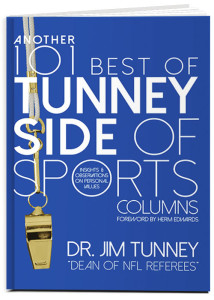 Be sure to get Jim's book 'Another 101 Best of TunneySide of Sports' by clicking this link or using the email above to contact Jim directly.
These TunneySides take issues from real-life situations and relate them as inspiration for the betterment of others.
Jim is available for speaking engagements on leadership and T*E*A*M Building. His books are available for $20 which includes shipping and tax. The Tunney Bobblehead is available for $30. Please visit JimTunney.com. Thank you!
---