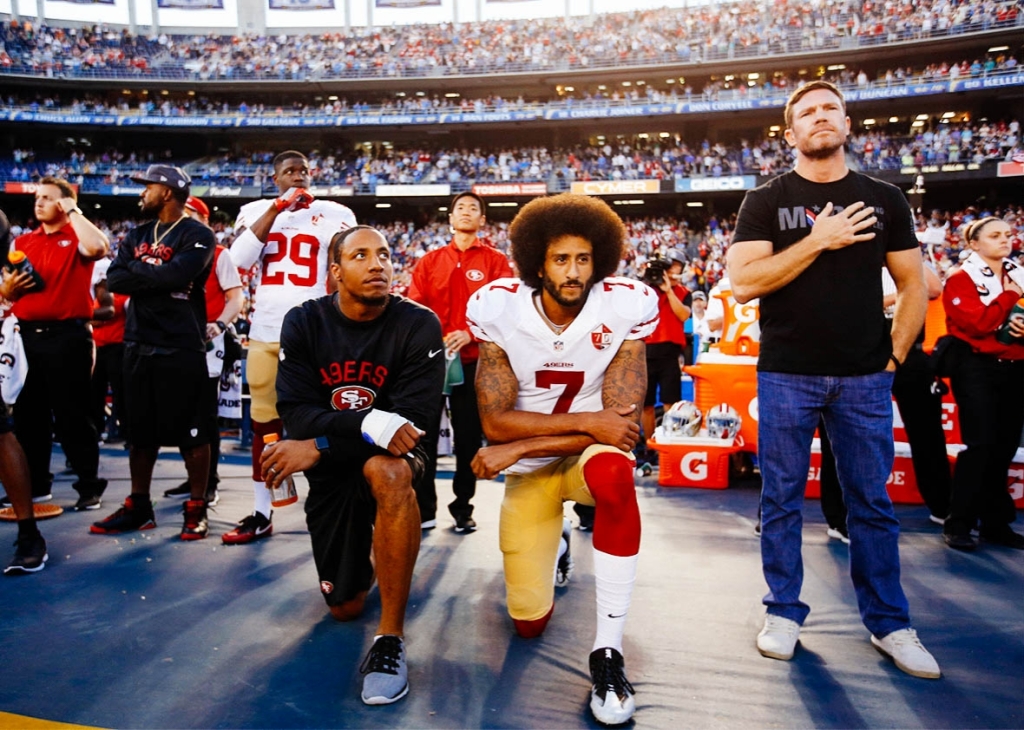 On the TUNNEYSIDE of SPORTS January 16, 2017 #628 Up next… "Is Kap Inspirational?"
After further review… Leonard Charles Eshmont died from hepatitis over 50 years ago. He was a member of the first San Francisco 49er T*E*A*M (1946-1949). After graduating from Fordham University, Eshmont was the 30th pick of the New York Giants. He was traded to the 49ers, as both a running back as well as a defensive back – he played both positions in every game. He scored the first touchdown in 49er history. Because of his inspirational and courageous play, the 'Niners named an award in his honor: "The Eshmont Award for Inspiration and Courage".
When I recently read that a current San Francisco player, quarterback Colin Kaepernick, was named the 2016 Eshmont Award recipient, I researched the past winners. The first recipient was quarterback Y.A. Tittle in 1957. Other Eshmont Award winners have included Joe Montana, Steve Young, Jerry Rice, and Jimmy Johnson, who each won twice. The most frequent recipient of this award, which is voted on by teammates, has been eight-time winner Bryant Young. Considering (as well as knowing) all the 50-plus recipients of the 49ers' most prestigious team award, the choice of Kaepernick was a surprise.
Kaepernick's refusal to stand for the national anthem prior to the 49ers' 2016 NFL games struck a chord of disrespect in many, as it did in me. The TunneySide takes the stance that while Kaepernick has the constitutional right to protest, he did so while being part of a T*E*A*M, which stands as a unit out of respect to the flag and anthem – symbols of our nation, the very entity that gives him and others the "right" to disrespect. Moreover, he was "on-the-clock," i.e., being paid by an organization which promotes patriotism as part of their pre-game ceremony.
If the 49er organization had taken the position to disagree with Kaepernick's form of protest, could they have cut him from the T*E*A*M? They surely could. But per his contract, they would have to pay him his salary for that year – a double-digit million-dollar figure! Of course, Kaepernick knew this, and thus, in this case, held the upper hand.
Further, Len Eshmont, and all the other recipients of the award created in his honor, inspired their fellow T*E*A*M (Together Everyone Accomplishes More) members to perform together as one. While all 53 active players, as well as management, must share in the responsibility of the 49ers' disastrous 2016 season, how important a role did Kaepernick's refusal to stand play?
Will you log-in your argument for or against Kaepernick's position?
To contact Jim, go to JimTunney.com or email Jim@JimTunney.com.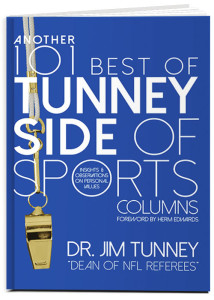 Be sure to get Jim's book 'Another 101 Best of TunneySide of Sports' by clicking this link or using the email above to contact Jim directly.
These TunneySides take issues from real-life situations and relate them as inspiration for the betterment of others.
---