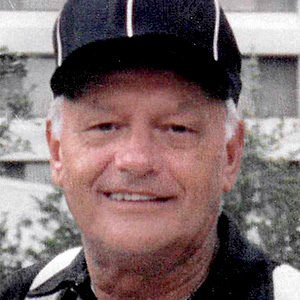 On the TUNNEYSIDE of SPORTS May 29, 2017, #642 Up Next… "Overcoming Adversity!"
After further review…The Tunneyside admires those who have overcome an adversity which they did not create. Two of those individuals are close professional speaker colleagues: Chad Hymas and W Mitchell. Both are confined to a wheelchair for life yet travel the world – yes, you read correctly, the world – speaking to audiences about dealing with disabilities. As Mitchell has said. "It's not what happens to you, it's what you do about it that counts." Both are in the Hall of Fame of the National Speakers Association.
With nearly 40 years' association with the Special Olympics, I have become a fan of special athletes. My involvement has been as a spectator, judge, and awards presenter at the California Special Olympic summer games. My assignment was to provide encouragement and congratulations to participants. Yet I came away inspired and full of hope for others in this world for who struggle to overcome difficulties. I have been blessed with the opportunity to speak to Special Olympic volunteers in several states and I remain a fan of those people as well.
The above is a prelude to the following tribute for a fellow NFL official who recently passed away: Jerry Bergman died at 87. He had 30 years of NFL on-field experience. His expertise as an official is confirmed by his assignments to officiate four super bowls, seven conference championships and numerous playoff games, along with the many important regular season games he was assigned. More than a top official, he was valued friend.
But the real story is the disability Bergman had to overcome. As a kid growing up in the outskirts of Pittsburgh, Pa. he was in the field one day as a thresher was mowing the hay, when another kid (horsing around) playfully pushed him and he fell into the path of the thresher, severely disfiguring his arm. A doctor's skill saved his now-withered arm but left him with just a couple of fingers.
Overcoming adversity, he played quarterback on his high school football T*E*A*M with the late Pittsburgh Steelers owner, Dan Rooney, as his halfback.
Bergman was a high school, then college, official, before moving to the NFL in 1966. He was an official that every official would want on a crew. He "had your back" and was a learned official of the NFL rule book. He never let his disability prevent him from being in front of millions of people every Sunday. Further, he served as the secretary-treasurer of the NFL officials association for 18 years and was part of the committee that convinced the owners to establish the officials' pension plan. That was a precursor of the plan that exists today.
ll you treat any adversity you face as a challenge to better yourself?
- – – – – – – – – – – – – – – – – – – – – – – – – -
To contact Jim, go to JimTunney.com or email Jim@JimTunney.com.
Jim's books are full of inspiration and interesting stories. Please visit his online store to learn more.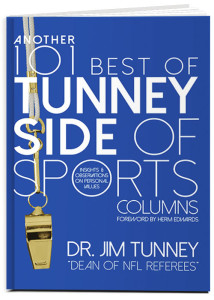 Be sure to get Jim's book 'Another 101 Best of TunneySide of Sports' by clicking this link or using the email above to contact Jim directly.
These TunneySides take issues from real-life situations and relate them as inspiration for the betterment of others.
---