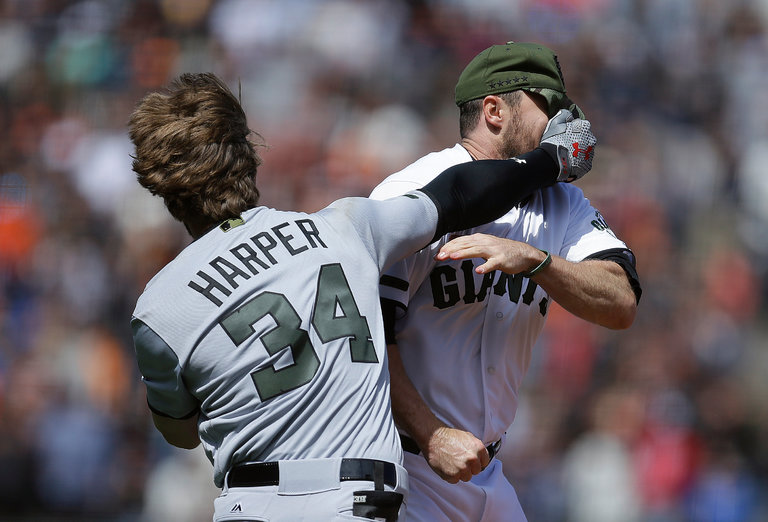 On the TUNNEYSIDE of SPORTS June 12, 2017, #644 Up Next… "Plunk 'em!"
After further review…That unwritten rule in major league baseball has a "get-even" twist to it. San Francisco Giants pitcher Hunter Strickland threw a 98-mph fastball that hit Washington Nationals right fielder Bryce Harper on his right hip during a recent game at AT&T Park, in retaliation for a pair of home runs that Harper hit off him in the 2014 playoffs. There is little doubt that the intent of the pitch was to exact revenge for the home runs and Harper's subsequent hubris trips around the bases when the two exchanged words. The irony is that the Giants went on not only to win that series but also the World Series that year! Wouldn't that neutralize any hard feelings of a three-year-old grievance?
Harper charged the mound, dropping his bat as he left the batter's box, then wildly throwing his batting helmet in Strickland's direction. Punches by both players ensued, followed by both dugout benches charging the mound area, either to break-up that fight or maybe to land a few punches on their own; such scuffles usually have a little of both. Plate umpire Brian Gorman immediately ejected both players. Strickland was suspended for six games. Harper drew four.
Strickland received a longer suspension since as a relief pitcher he is not expected to appear in every game. Harper, an everyday position player, was given four games, but after his appeal, Major League Baseball authorities reduced his suspension to three games. The TunneySide doesn't understand why Harper's suspension was reduced. MLB had several days to review the evidence from the melee and decided on a four-game suspension. What new circumstances appeared that caused them to change that suspension?
A more important issue is why major league baseball permits such revenge tactics to continue. The unwritten rule of self-policing from the pitcher's mound must be eliminated. In days gone by, some managers would encourage pitchers to "plunk" a batter, either to prove a point or to keep a long ball hitter from digging-in. The TunneySide believes that MLB managers today are not of that thinking. Yes, pitchers do throw "brush-back" pitches to keep the batter from crowding the plate and giving himself a better chance to reach balls on the outside corner. But they are strategic pitches, not assaults with a deadly weapon.
Throwing at a batter to intentionally hit him is an act of cowardice, and an admission by the pitcher that "I can't defeat you within the rules, so take this!" Should an intentionally thrown pitch hit the batter's head, concussion or even death may occur. It's just too dangerous.
Will you log-in your opinion on a pitcher intentionally throwing at a batter?
- – – – – – – – – – – – – – – – – – – – – – – – – -
To contact Jim, go to JimTunney.com or email Jim@JimTunney.com.
Jim's books are full of inspiration and interesting stories. Please visit his online store to learn more.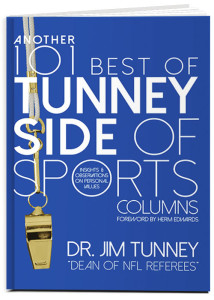 Be sure to get Jim's book 'Another 101 Best of TunneySide of Sports' by clicking this link or using the email above to contact Jim directly.
These TunneySides take issues from real-life situations and relate them as inspiration for the betterment of others.
---