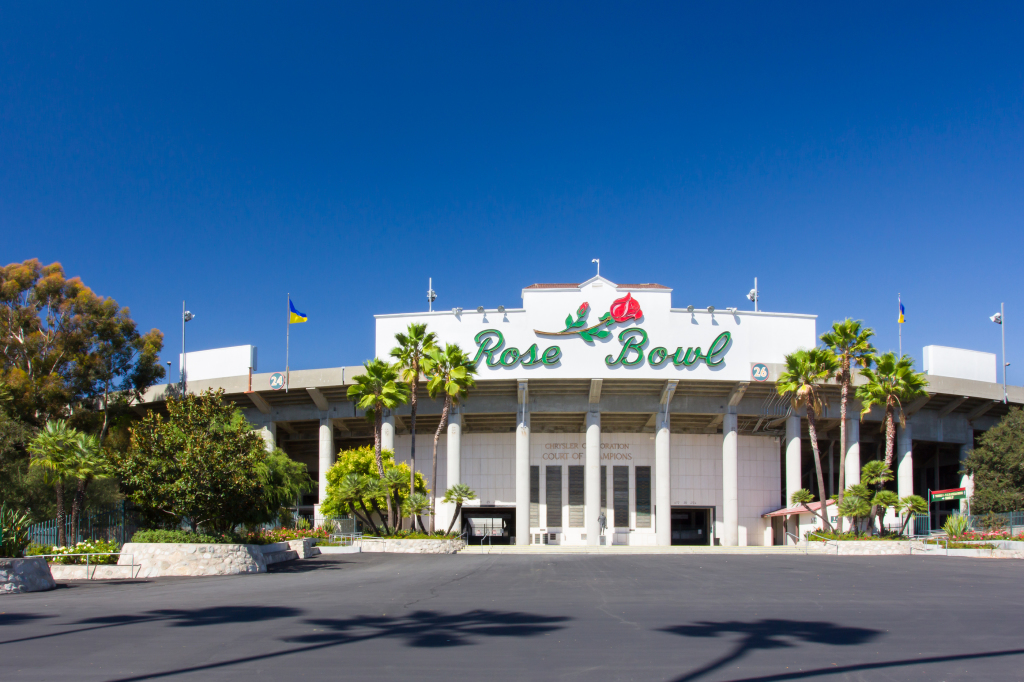 On the TUNNEYSIDE of SPORTS January 9, 2017 #627 Up next… "Rose Bowl – The Granddaddy…"
After further review… "The Granddaddy of the Them All" was the proud subhead first given to the Rose Bowl in Pasadena, California. When there were just four college bowl games played on January 1st, this name for the Rose Bowl recognized the culmination that its outcome represented, and it was a game that people couldn't miss seeing or listening to. I carry a lot more than the name of that game with me; my history goes way back. So it comes as a distinct pleasure for me to comment on the game played this year (because January 1 fell on a Sunday, the Rose Bowl was played the following day). Penn State University vs the University of Southern California was the best of all 40 bowl games played this season. Did you notice that no member of either T*E*A*M was identified by his name on his jersey, a lack of display suggesting that "you play for the T*E*A*M and not for yourself?"
The Rose Bowl itself is a most memorable stadium for me. I started going there when I was six or seven years old. My dad, a high school and college football official, officiated games there, and he would take me with him (I carried his "gear bag"). I would sit on the players' bench and watch the action up close and personal. One evening during a Pasadena Junior College game, Dad came over to the bench and said to me, "Now keep your eye on this kid, he's really gonna be somethin'." He was pointing right at him, and that kid was Jackie Robinson, later to be known as #42, and he was sitting right next to me.
On January 1st, 1947, just 70 years prior to the 2017's Rose Bowl game, my dad was the Rose Bowl referee for a game between University of Illinois and U.C.L.A., with the Illini winning over the Bruins 45-14. I sat in section 21 that day watching halfback Buddy Young score two touchdowns to lead Illinois to victory.
Thirty years later – January 9, 1977, forty years ago, today – I was fortunate to be assigned as referee in the first Super Bowl (XI) game to be played in (my) Rose Bowl. The Oakland Raiders, helped by their great receiver Fred Biletnikoff's MVP performance, defeated the Minnesota Vikings 32-14. I had a better seat that day standing behind both quarterbacks – the Raiders' Ken Stabler and the Vikings' Fran Tarkenton. The Rose Bowl will always be a "Granddaddy" to me, and I am, indeed, grateful.
Will you log-in your favorite memory of the Rose Bowl?
To contact Jim, go to JimTunney.com or email Jim@JimTunney.com.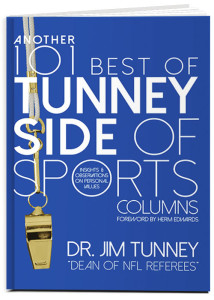 Be sure to get Jim's book 'Another 101 Best of TunneySide of Sports' by clicking this link or using the email above to contact Jim directly.
These TunneySides take issues from real-life situations and relate them as inspiration for the betterment of others.
---